3D Home Design Software Download from Here
| By | Category:
Home Design Software
Are you building your dream Home ? Renovating an older style House ? Remodeling your kitchen or bathroom ? Or maybe your just thinking about re-arranging some furniture, or painting and decorating a single room.
If you are like 100,000's of other people around the World just understanding what its all going to look like is proving to be totally, utterly confusing !
Should you choose this color or that, does this material go with that, is it this kitchen bench material with that splashback and before long nothing seems to be be perfectly clear anymore.
Am I right ? Does that sound like you ? Or maybe your a Professional Designer and you have this same problem helping customers understand your Design Ideas for color, materials and even furniture placement.
The ability to correctly visualize colors, materials and spacial relationships is actually a very common problem – But it doesn't have to be, not when you have our revolutionary Home Design Software on your side.

Most people tend to gather around the living room table armed with CAD drawings of house plans, sketches and scribbles, color charts, photographs, magazines and product samples of a 100 different kinds – laying everything out in hope that they can bring it all together in their mind, able to envisage what its going to all like when its all together in their Kitchen, Bathroom or Living Area, or whatever else they are planning on creating.

In reality people tend to be good at visualizing this sort of thing in their mind or not.
For some people the idea of being able to visualize all those paint colors, materials, textures, furniture etc based on 2D line drawings and a few material samples is next to impossible.
That's what we do – that's how we can help you – by bringing your ideas to life in the way that its easiest to understand answering the question "what is it going to look like when its been built" but doing that before you build it.

We are a Software Development Company called Developer3d, our unique Home Design Software Products allow you to create a fully interactive 3D model of your Home Design Project and see what its all going to look like in the way that you will see it when its been built.
We distribute our software around the World at Home and Building Trade Shows and online – That's me demonstrating the 3D Software at a Home and Building Design Trade Show we have sold literally 100,000's of copies of our Home Design Software at these shows and via our website.
Using our 3D Software you can get inside and walk around in your Home Design Ideas on your Personal Computer before they build it ! How amazing is that !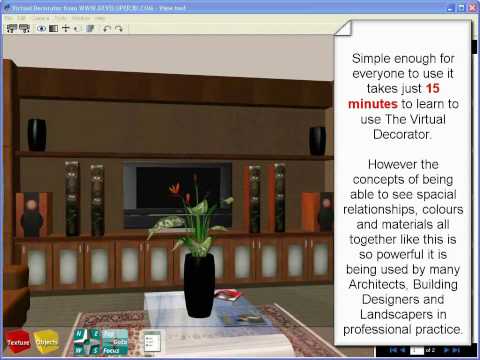 This 2 minute video showcases our 3D Interior Design Software. You might have seen it on youtube, this product is definitely our showstopper and our most popular product – watch this 2 minute video and you will see why people love this software so much.
Amazingly you can even add colors, materials and textures like this, either drawing from the built in product library or by adding to that library by using images taken with your digital camera … WOW !
Important: The software is suitable for Microsoft Windows only ( it does not run on an Apple Mac ) – If you are looking for Home Design Software for the Apple Mac try here and requires a 3D Graphics Card installed to run correctly, there is a free trial to ensure compatibility with your PC and an understanding of how the software works.