Shipping Container Homes
| By
victor
| Category:
Samples and Demo Models
The interest in converting old Shipping Containers into real world homes is exploding. Following a discussion with a Architect friend about the application of our Home Design Software to this design niche I was rather surprised by just how many people are researching and interested in Shipping  Container Homes and Container House Design.
A few years ago we created an add on module for our Home Design Software for the task of visualization of Shipping Container Modules in the Built Environment, now I am more aware of just how many people are interested in this area I have decided to make those library modules into a public release of our Home Software.
If you are interested in Shipping Container Design you might be interested in these two design resources that I came across in my research.
The first is a book called Intermodal Shipping Container Small Steel Buildings which is quite mouth full but its a good resource.
It explains how to purchase steel cargo containers and modify them for use as buildings saving up to 40% over tradition construction methods. '
Intermodal Shipping Container Small Steel Buildings is 116 pages and includes photos, diagrams, and plans.
The second is a 200 page Illustrated Manual of Shipping Container Home Design
This is a 200 Page Illustrated Manual Athat you can download without waiting for the book shippment.
I have included a series of photographs that show some truly wonderful examples of design genre using this resource – how wonderful they are – who would have thought that these beautiful homes began life as humble shipping containers.
Complex Home Design using  Multiple Shipping Containers
Check out this video demonstrating the Shipping Container Home Design Softwrae

Shipping Container Home Design Software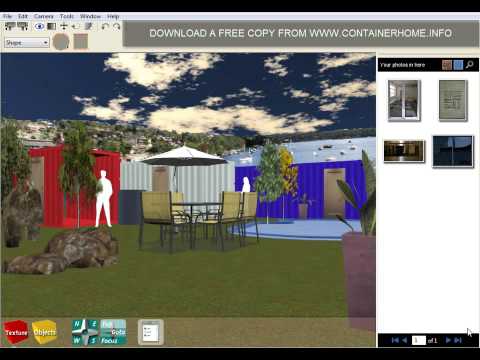 If you would like to add our Shipping Container Homes module with the Software please drop me an email we will respond based on the interest we receive.